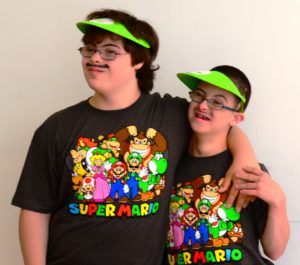 Christopher and Matthew met when they were 10 years old and have a very special relationship. Now, at the age of 16 they have a lot in common including, as you can tell, an interest in playing video games and they love bowling at PEP's Bowling Center. Staff says that they have that special bond of friendship ……..all because of Camp PEP!
Today Camp PEP serves up to 25 children per week for four weeks during July and August, it is the only summer program of its kind in South Philadelphia. Many of the families we serve are low-income and need low-cost and effective care for their children. This would not be possible without the dedication of a truly outstanding camp staff and generous funding sources.
Camp PEP is just one of many programs provided through PEP that is solely funded through foundation grants and individual donors to help keep tuition minimal. Camp's theme this year is "Star Wars" and through your donation you can be the force that helps support children living with disabilities.
Thank you for your investment in supporting Philadelphia's most vulnerable citizens!!
For more information please contact Michael Domer, Director of Development at 215.952.4266 or michael.domer@pepservices.org