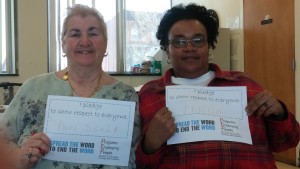 By Denise D., speaking in solidarity with the "End the R-Word Campaign" and the Special Olympics.  
Language affects attitudes. Attitudes impact actions. During the month of March, young people around the world are taking a stand and raising awareness of the dehumanizing and hurtful effects of the R-word by encouraging others to think before they speak.
A Special Olympics multi-national study revealed that over 60 percent of people still believe that people with intellectual disabilities should be segregated in schools and in the workplace. This is intolerable. We need a massive attitude change to attack and reverse the stigma that is destructive to the lives of people with intellectual disabilities and a barrier to growth.
We know we can do better as a society. I am hopeful we can strive for a unified world: one that champions inclusion and unity through activities where individuals with and without intellectual disabilities participate together. At Programs Employing People, a community-based program for adults and seniors with intellectual and developmental disabilities in Philadelphia, we help create opportunities for our talented consumers to participate in their community alongside their nondisabled peers. We believe in inclusion, not isolation, and champion the use of positive, people-first language.
Use of that R-word, "retard" or "retarded," is hurtful, toxic, and (whether intended or not) a form of bullying. Most people don't think of this word as hate speech, but that's exactly what it feels like to millions of people with intellectual and developmental disabilities, their families and friends. Eliminating the use of this word is a step toward respect for all peoples.
The R-word is just as cruel and offensive as any other slur, and yet some educated and compassionate people feel it is still permissive to say it. Up to three percent of the world's population has intellectual disabilities – that's almost 200 million people around the world. So why have other offensive slurs been banned from public use, but the R-word is still tolerated? Let us all do our part to create a more accepting world for people with intellectual disabilities and all those people that may appear different, but have unique gifts and talents to share with the world.
Respect people through your words and your actions. Make your pledge by downloading the I Pledge Sheet, signing your name, and posting a photo of you on your Facebook or Twitter page. Don't forget to tag PEP (@Programs Employing People or @PEPServices) and use hashtags #respect and #spreadthewordtoendtheword.