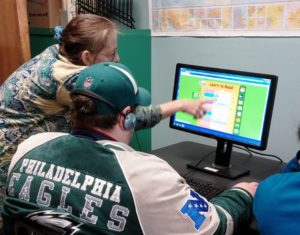 PEP's Adult Education Program is a year-round curriculum that serves students both with and  without disability to improve their low literacy skills in order to succeed with employment. The program is specially designed to accommodate students at different levels of ability and experience. Personal goals are set and each student's progress is measured against these set goals.
Adult Literacy Classes
In order to expand our reach into our South Philadelphia community, PEP offers free GED or High School Equivalency Test (HiSET) Preparation classes to up to 15 students per class, 15 hours per week to non-disabled community residents.  These classes focus on the skills needed to pass the High School Equivalency Test tests which include literacy, mathematics, science and social studies. Career coaching is also offered which includes the assessment of students' skills and interests, assisting them with such things as creating and updating typed versions of their resume. PEP's Adult Literacy classes are offered year-round and are administered in 8 week periods.
For more information about our Adult Literacy classes, please contact Lisa Hannum at 215-952-4272 or lisa.hannum@pepservices.org