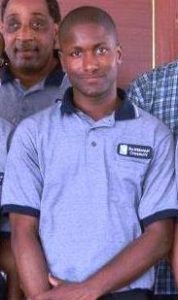 Asim was referred to PEP's Vocational Training and Work Center upon graduation from high school.  He had no work experience and was not sure what he wanted to do, but that didn't stop him. Asim excelled in Voc. coming in daily with a positive and enthusiastic attitude. Asim was then referred to PEP's Community Integrated Employment program where he worked with his job coach to identify what he needed in a job in order to be successful.  He and his job coach conducted a career exploration where they were able to utilize the relationship that PEP staff had built with the Rittenhouse Claridge Apartments. Soon Asim landed a part time position on the Claridge's janitorial team.  Working closely with his job coach, Asim's "can do" attitude made it possible for him to quickly learn all of the responsibilities and duties of his new job. In very short order, Asim was offered a full time position with more responsibilities and now he enjoys his new found independence.
Asim was recently featured on a PEP Employment Video. Check out why PEP Employment Services are valuable to local businesses like the Rittenhouse Claridge Apartments and the Wells Fargo Complex PEP Employment Video
PEP's Employment Services can boast many success stories, like Asim. But we couldn't do it without the generosity of our donors.
Donor Testimonials
We asked our donors why they gave to PEP. This is what they told us.
"To help keep the programs alive for the clients who need all the help possible. I'll do everything in my power to help keep it going so that they can learn by doing the best they can." ~Longtime Donor
"I found the Day Program to be great help for my daughter. Before she began going to PEP she was bored at home every day. I donate because I want PEP to be there for other families." ~PEP Parent
"PEP has the most caring individuals as employees." ~PEP Parent
"It's local and the work and efforts for those deserving of an opportunity to flourish, be active socially, and in the community is invaluable. Everyone deserves a chance in life to be happy." ~Community Member
"I wish I can donate millions to PEP. My son has gone to PEP for 24 years. I never worry about him when he is at PEP." ~PEP Parent
For more information about PEP's impact on our consumers or to support our mission, please contact Michael Domer at 215-952-4266 or Michael.Domer@pepservices.org.