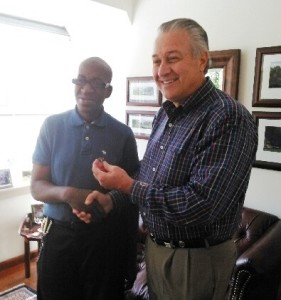 Every once in a while hard work, diligence and dedication to a job well done pays off! That's what happened to William Ferebee, one of the graduates of our Community Integrated Employment (CIE) program who recently received the Employee of the Month Award from his employer the Rittenhouse Claridge Apartments. What's so special about this award is that it is 100% peer elected and William has been employed as a Porter at the Claridge for just three months! Way to go William!!
Always Looking for New Employers!
The mission of the Community Integrated Employment program is to match reliable, well-trained workers from PEP with employers in the community; as well as providing paid assembly-line employment through our work center. CIE program candidates, like William, are excited about getting into the workforce, increasing their quality of life, while directly benefiting the businesses who hire them. Just this past year we partnered with several local companies to fulfill their employment needs. Businesses like the Wells Fargo Center, Minuteman Press, Temple University Hospital, Tinker Hill Co., University of Pennsylvania, the Rittenhouse Claridge Apartments, Kindred Hearts, the Liquor Control Board, and Walmart have counted on CIE staff to find them qualified candidates.
————————————
The purpose of the recently celebrated National Disability Employment Awareness Month was to educate the community about disability employment issues and celebrate the many and varied contributions of America's workers with disabilities.
This year's theme my disability is one part of who I am certainly resonates with two of PEP's business partners the Wells Fargo Center and the Rittenhouse Claridge Apartments who have already recognized the benefits of working with PEP's Community Integrated Employment program. PEP's CIE has placed numerous workers at the Rittenhouse Claridge for the last three years and the sports complex in South Philadelphia for over 23 years!
—————————————-
Any business or organization interested in partnering with PEP's Community Integrated Employment program should contact Beth Ryan, CIE Manager, at 215 952-4278 or at Beth.Ryan@pepservices.org.