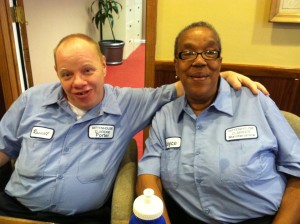 By Theresa Malandra
At 67 years young, Joyce had plenty of work experience from Programs Employing People's (PEP) vocational work center and PEP Bowl. In March 2013, Joyce was preparing for retirement but jumped at the opportunity to work at the posh Rittenhouse Claridge in Center City Philadelphia.
Joyce knew this was the job for her from her first day of orientation. With the direct training and support of PEP's Community Integrated Employment (CIE) department, Joyce quickly learned her new responsibilities and proceeded to excel at her job as a porter and even joined the hospitality union.
Performing her duties with an enthusiasm and attention to detail, Joyce put a smile on the faces of not only her coworkers, but of the building residents. Her supervisor express that she is an asset to the company. Property manager Matthew Fox attests, "Joyce is a workhorse, and she says the funniest stuff!"
Joyce is just one of the many success stories at PEP. But there are many more people with disabilities waiting for job training and placement.
People with disabilities represent a large source of qualified workers as approximately 56.7 million people (18.7%) have some level of disability in the United States, as reported by the US Census. In January 2015 the Department of Labor reported that the Unemployment Rate of people with disabilities is 11.9% and comparatively 5.9% for people without disabilities.
Meanwhile, there has been a paradigm shift surrounding employment of people with disabilities which places greater emphasis on supported employment (employment in the community supported by their team of professional staff and caregivers) as the first option for adults with intellectual disability. That is to move toward inclusive employment within the competitive labor market.
In July 2014, President Obama signed the Workforce Innovation and Opportunity Act which prevents young people with disabilities from being allowed to work in work centers. In addition, the Center for Medicaid and Medicare enacted their Final Rule which will transform the work centers and day programs as we know them today, in favor of employment in the community and in-home/community habilitation programs.
This movement to community based employment has allowed people with disabilities to gain financial independence, greater social integration, increased opportunities for personal growth, and greater influence in their own preferences and decision-making.
Furthermore, the inclusion of workers with disabilities offers a competitive edge to businesses. Workers with disabilities enhance the strength of a business's workforce through their ability to remain flexible, think creatively, and confront challenges head-on. However, not all employers are familiar with best practices to effectively recruit, retain and advance such individuals.
This is where Programs Employing People (PEP) excels. PEP is a leading nonprofit organization effectively providing educational, social and vocational opportunities to adults with intellectual and developmental disabilities within Philadelphia. Through our successful Community Integrated Employment program, our clients are excited about getting into the workforce, increasing their quality of life, and benefiting the businesses who hire them.  We can help you through the process of hiring highly trained employees for your workforce.
Additionally, the Office of Disability Employment Policy has created two services to assist you in your efforts to create a work culture inclusive of people with disabilities, and best of all, they're free of charge! The Employer Assistance and Resource Network (EARN) offers a variety of such materials on its website or by calling 1-855-AskEARN (1-855-275-3276) (Voice/TTY). The Job Accommodation Network (JAN) is the leading source of free, expert and confidential guidance on workplace accommodations and disability employment issues. JAN's website is AskJAN.org. Live phone service is also available 9 a.m. to 6 p.m. ET by calling (toll-free) 1-800-526-7234 (Voice) or 1-877-781-9403 (TTY). Another good source is Disability.gov, which is the federal government's central website for disability-related information.
We invite you to explore these resources and get in touch with PEP about hiring a person with disabilities to benefit your business.