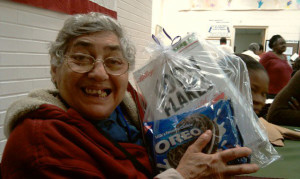 For people with more severe challenges, PEP's Adult Day Program provides community based service options of daily social, recreational, and volunteer activities to enhance their mental development and normal social interaction.
PEP's caring and supportive staff takes the learning process out of the classroom and into the real world so PEP consumers can learn to make use of their communities in real life situations. They make purchases, learn how to deal with auto and pedestrian traffic, become aware of community survival signs, and learn orientation and direction finding. These and other skills are acquired while participating in fun and meaningful activities.
Some of the activities include volunteer projects, and visits to museums, parks, restaurants, historical sites, libraries, recreational centers, sporting events, parties, amusment parks, and fitness centers. Strategically located at Broad and Federal Streets in South Philadelphia, PEP conducts community outings in the Greater Philadelphia Area.
PEP staff provides transportation, assists with daily living activities, and helps consumers in the community learning process. Outings operate year round Monday through Friday from 8:30 to 3:30, excluding some Holidays and PEP inservice days. When not out in the community, consumers can choose from a variety of activities that include computer lab use, board games, karaoke, arts and crafts, photo-album and scrapbook assembly, exercising, movies and music, according to their interests.
For more information, please contact Robert Scott at 215-952-4288 or robert.scott@pepservices.org.