Community Integrated Employment
Looking for quality employees? Find out what John Page, the President of the Wells Fargo Center already knows: PEP Employment Video
PEP's Community Integrated Employment (CIE) matches employers with reliable, well-trained workers from PEP.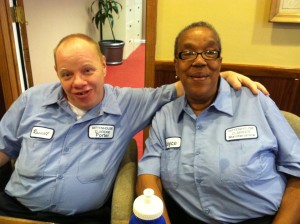 Consumers have worked under PEP's guidance at locations such as the Wells Fargo Center, Rittenhouse Claridge Apartments, Wal-Mart, UniqueSource, McDonald's, CareerLink, Pennsylvania State Liquor Control Board, and various other state agency offices and private businesses. The program helps individuals with intellectual disability achieve workplace literacy, find work, and succeed at employment through services that include:
Employment Plans: These plans are produced through a detailed assessment process to insure that consumers have a choice of appropriate employment and volunteer positions, an opportunity to succeed at the work they choose, and a chance to select the area of the city where they want to work.
Job Development: Using information from the Employment Plan, PEP staff members explore various jobs, search the classified section of the newspaper and websites, make contacts in the community, and fill out applications when potential employment is identified.
Coaching and Training: The Employment Specialist provides intensive coaching to the consumer on a one-to-one basis when the consumer is placed in a job. The training will last until the consumer can independently perform all of the required duties of the job.
Natural Supports: To prepare for the time when the consumer no longer requires direct support from the job coach, the job coach encourages other employees at the job site to give the consumer moral support and include them in the department. This helps the consumer feel like an important part of the team and ensures longevity and stability on the job.
For more information, please contact Beth Ryan at 215-952-4278 or beth.ryan@pepservices.org.
Manufacturing and Production Work Center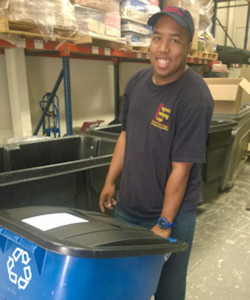 The Manufacturing and Production Work Center provides adults with mild and moderate disability with paid work at PEP. Businesses contract with PEP's Production Services Program because PEP is a cost-effective producer of subassemblies, mechanical and electrical assemblies, packing and bagging, inspection and sorting, collating and folding, and mailing and insertion services.
Consumers work thirty-five hours a week, supervised by full-time experienced production supervisors. Many of PEP's contracts require workers to acquire new skills and techniques, which also serves to keep consumers focused and challenged. Consumers earn while they learn, with salary based on production and output monitored daily.
At the start of each new production job, supervisors determine the work flow and time the production activities. Then jobs are assigned to individuals according to their abilities. Supervisors work closely with consumers to provide help and encouragement when needed. Working with their peers in a supportive atmosphere, consumers learn the production process while sharpening skills like following directions, working as a team, and using communication skills.
For more information, please contact Beth Ryan at 215-952-4278 or beth.ryan@pepservices.org.