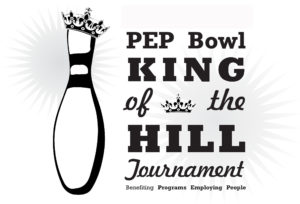 Hey, it's that time of year again! Time to lace up those bowling shoes, polish the bowling ball and gear-up to knock down some pins at the 5th Annual PEP Bowl King of the Hill Bowling Tournament at the iconic PEPBowl, 1200 South Broad Street at Federal Street in South Philadelphia. Great prizes, not to mention bragging rights, will be available for our 200 expected competitors on Sunday, April 2. All guests will enjoy a catered buffet and an open bar serving artisan brewed beer from Yards brewery and soft drinks. Individual registration starts at $50, and we have sold out in the past so make a point to buy those tickets early!!
As in year's past, the tournament will consist of two competitions:
The Novice division for casual bowlers from 1-3:00 pm, entry fee $50.                     Prizes given throughout tournament.
The King of the Hill division for more skilled bowlers from 4-7:00 pm, $75 fee.       Must bowl three games. Cash & prizes awarded for achievements.                               King of the Hill entrants must have an established average. We will allow:                           Other bowling center (most recent) standing sheets                                                             USBC book average 2015                                                                                                             Bowlers in a PEP Bowl league                                                                                   Advanced players should contact PEP Bowl (215 952-BOWL) for additional information on rules governing this tournament.
To purchase tickets FREE of service charge Buy tickets here! 
Sponsorship Opportunities
Check out our new 2017 Sponsorship Package that allow for eye-catching marketing and publicity for your company.  In addition to the benefits outlined in the package, all sponsors will receive year-long advertising at PEP Bowl and social media shout outs to thousands of our followers on Facebook and Twitter who will hear about your generosity.