Building maintenance is easy with janitorial crews from PEP. We willingly contract with individual businesses and companies. We have an ongoing contract with a state agency, UniqueSource. Our crew can handle your building needs, including daily office and restroom cleaning, trash removal, floor care including buffing, windows, and full-building special or inspection cleaning.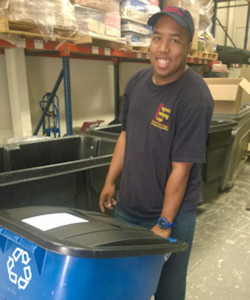 The quality of our services, including workers with disabilities is so good that some of our employees have been selected for state-wide "Worker of the Year" awards from hundreds of nominees! Our customers include office buildings, driver's license centers and state police headquarters.
Cleaning services can be arranged on a daily or weekly basis. Our crews are fully trained and supervised. We can provide necessary supplies and equipment at a competitive price and on the schedule you need.
For a review of your maintenance needs, please contact Gus Nyekan at 215-952-4290 or gus.nyekan@pepservices.org. We will gladly come out and provide an estimate for you.