Since 1974 PEP has been fulfilling a diversified range of high-quality business and manufacturing requirements:
Product Assembly Services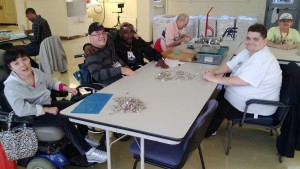 PEPShred: Secure Document Destruction Services
Call on PEP when you have:
hand or product assembly work to get done quickly
a small or one-time-only job
a job either too small, too large, or not cost-effective to set up and run in-house
a product line with special needs
periodic mailings, such as newsletters and annual reports
a job with special packaging considerations
assembly needs for conference literature or orientation packets
Our facility – conveniently located near downtown Philadelphia – has 20,000 square feet of work space. PEP Production Services can fulfill orders from several hundred pieces to as many as several million – all at a price that small and large companies can afford.
PEP's capabilities include all forms of packing, bagging, folding, collating, assemblies, heat sealing, sub-assembly, shrink-wrapping, order fulfillment, direct mail and more.
Join corporations like Webb Manufacturing, Melrath Gasket, Threaded Screw Products Co, Inc., American Handle, Louis Sherman & Co., University of Pennsylvania, Keystone Screw Products, BWP a Division of CarQuest, Kalnin Graphics, and others. See how effective PEP's Production Services can be for your business, while you help workers with disabilities achieve independence and self-sufficiency.
For more information, please contact Beth Ryan at 215-952-4278 or beth.ryan@pepservices.org.