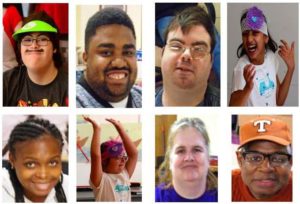 All of the folks pictured here are involved in one or more of PEP's programs. The kids are recent graduates of our summer program Camp PEP, and the adults are all interested in finding a job through our Community Integrated Employment services.
At PEP, every one of our employment seekers is supported by staff who regularly identifies local employment opportunities and then matches our consumer's interests and skills to the position. We know that working at a job that one enjoys means that they'll be good at it.                         And that's a win – win for everyone.
Over the next year, we will be expanding our employment services expecting to serve 65 to 100 people annually which more than double the current number of consumers interested in finding a job. This expansion will significantly increase our expenses as we endeavor to improve our consumer's chances of finding and keeping employment.            That's where we need your help…..       
Making a living and supporting oneself is a critical aspect of any person's life. With your financial support, we will be able to hire and train eleven staff who will help PEP facilitate this expansion.
Every contribution, no matter the size is so very important! Please consider making a financial contribution:
To donate on line please click: Donate Today! 
To donate by phone please call Michael Domer, Director of Development at 215 952-4266
To donate by email or for more information contact Michael at Michael.Domer@pepservices.org
Thank you for your investment in supporting programs and services designed for Philadelphia's most vulnerable citizens!!